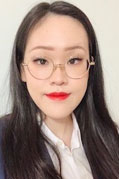 Natalie Chan is a law student in our tax dispute resolution, tax litigation and taxation and estate planning groups. She also assists our team with its seminars and monthly newsletters geared towards accountants and lawyers. Natalie is fluent in Cantonese.
Natalie is a 2022 J.D. candidate at the University of Toronto Faculty of Law. Previously, Natalie was an associate editor at the Journal of Law and Equity, and also worked as a legal research assistant for law professors at the University of Toronto on a project focused on investigating wrongful conviction cases. In addition, Natalie volunteered as a law student with organizations including Law and Action Within Schools, Pro Bono Students Canada and the Asper's Centre.
Natalie holds an Honours Bachelor of Arts degree in Cognitive Science and Linguistics from the University of Toronto where she graduated with high distinction.